Reddit co-founder Alexis Ohanian said Friday that social media was complicit in creating an environment where conspiracy theories seemed plausible.
Groups that adhere to conspiracy theories have flourished online. Some conservatives have expressed a belief in QAnon, a conspiracy theory that President Donald Trump is secretly leading a covert war against Democrats, Satanists and pedophiles. Ohanian said that social media allows the theories a sheen of validity.
"There is a kind of legitimacy that gets created with context," Ohanian said in an interview with CNBC. "There is a legitimacy that comes with seeing a hate group or conspiracy theory in a feed right alongside your uncle celebrating his promotion or some cute photos of your nephew."
"This context provides a real normalization, right?" he added. "And that's the part where I think it plays a long-term role and one we need to better understand because that is the sort of thing that makes what looks very radical in isolation look a lot more normal and a lot more reasonable."
Ohanian said some individuals "buy in whole hog" to conspiracy theories because it allows them to "feel normalized and feel kinship and community around them."
"That bears a great, great cost," Ohanian added, "and I think we're seeing what that's leading to offline and we're going to have to do some work now to deradicalize a lot of people."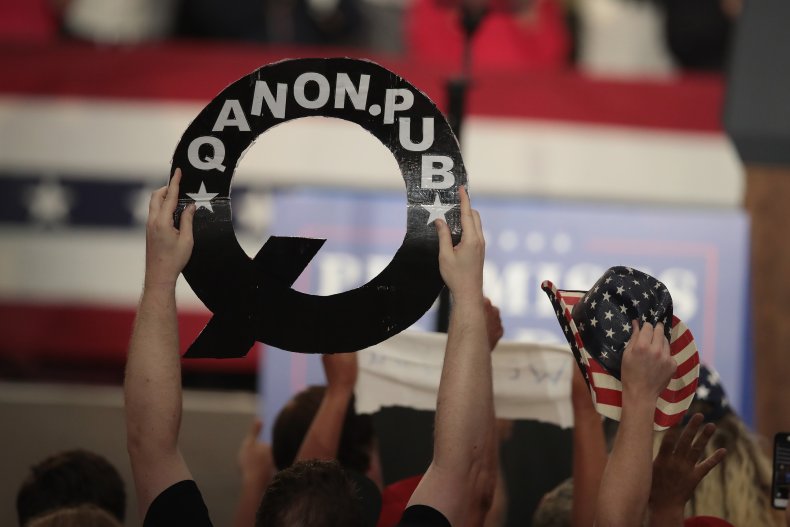 In October, Facebook took action against QAnon posts by removing them from its Pages, Groups and Instagram accounts. However, individuals may still post QAnon related content on their personal feeds. Reddit banned some QAnon related forums in 2018. Newsweek reached out to Twitter for comment.
In May 2019, the Federal Bureau of Investigation said that conspiracy theories would likely "emerge, spread, and evolve in the modern information marketplace, occasionally driving both groups and individual extremists to carry out criminal or violent acts."
Trump has declined to denounce QAnon or their beliefs. During an October town hall meeting, the president said he didn't know anything about QAnon. "I know they are very much against pedophilia," Trump said. "They fight it very hard."
Some members of the GOP have expressed a belief in the QAnon theories, including Georgia Representative-elect Marjorie Taylor Greene. In 2017, Greene posted a video in which she described the QAnon movement as a "once in a lifetime opportunity to take this global cabal of Satan-worshipping pedophiles out."
Greene attempted to distance herself from QAnon in August and told Fox News that the movement "doesn't represent" her. "Once I started finding misinformation," Greene said, "I decided I would choose another path."